ALL ideas list
services list
CARICATURES
Capture someone's face and let us capture their personality.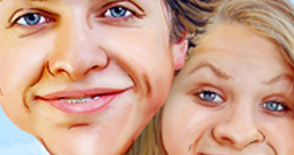 We create hilarious yet accurate caricatures from any photo. Caricatures are a perfect gift for many different occasions, as our caricatures are guaranteed to put smiles on the faces of your friends or customers. Put them on objects like mugs and t-shirts to complement the personalities of your friends and family or colleagues.
Choose from our standard plain style or from one of 16 other fantastic themes.
Please Download our price list.